Choose Your Web Hosting Plan
Direct 1
2 Websites
4GB SSD Storage
Unlimited Traffic
Fully Managed Support
Guaranteed Resources
DirectAdmin Panel
Order Now
Direct 2
4 Websites
8GB SSD Storage
Unlimited Traffic
Fully Managed Support
Guaranteed Resources
DirectAdmin Panel
Order Now
Direct 3
8 Websites
16GB SSD Storage
Unlimited Traffic
Fully Managed Support
Guaranteed Resources
DirectAdmin Panel
Order Now
Direct 4
12 Websites
24GB SSD Storage
Unlimited Traffic
Fully Managed Support
Guaranteed Resources
DirectAdmin Panel
Order Now
No hidden fees! The prices displayed do not change - even not on renewal. All prices excl. VAT.
All Hosting Plans Include
High quality hosting with the popular Directadmin!
Our modern infrastructure and years of experience ensure reliable and secure web hosting for your websites.
All this with the popular Directadmin control panel.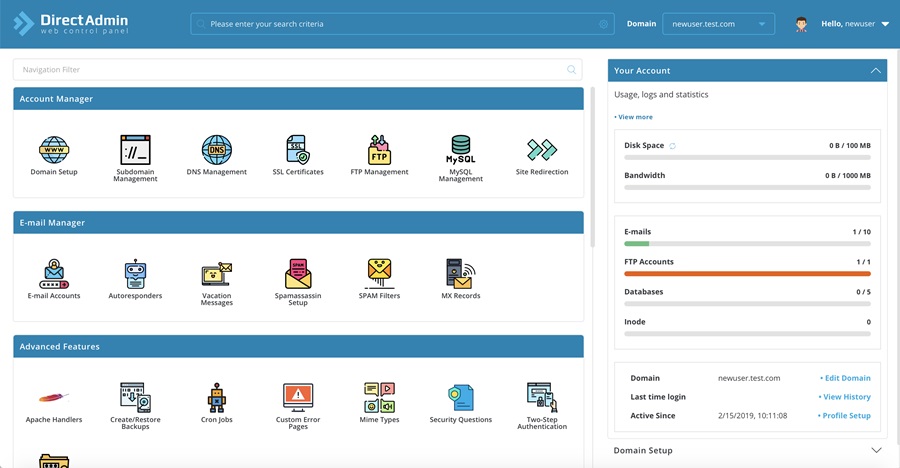 Compare Our Hosting Plans
| | Direct 1 | Direct 2 | Direct 3 | Direct 4 |
| --- | --- | --- | --- | --- |
| Websites | 2 | 4 | 8 | 12 |
| Fully Managed Support | | | | |
| SSD Storage | 4GB | 8GB | 16GB | 24GB |
| Monthly Traffic | Unlimited | Unlimited | Unlimited | Unlimited |
| Virtual Server (VPS) | | | | |
| Dedicated IP Address | | | | |
| Multiple PHP versions | PHP 5.6/7/8 | PHP 5.6/7/8 | PHP 5.6/7/8 | PHP 5.6/7/8 |
| DDoS Protection | | | | |
| MySQL Databases | Unlimited | Unlimited | Unlimited | Unlimited |
| FTP Accounts | Unlimited | Unlimited | Unlimited | Unlimited |
| SSH Access | | | | |
| Cron Jobs | Unlimited | Unlimited | Unlimited | Unlimited |
| Free SSL Certificate | | | | |
| Backups | Daily | Daily | Daily | Daily |
| Advanced Cache | | | | |
Need more power? Check out our cloud hosting packages.
Maximum security - round the clock
An upstream firewall infrastructure protects all your websites against attacks and unauthorized access. Maximum security guaranteed with every package.
Denial-of-Service Protection
An advanced DDoS protection secures your websites against cyber and hacker attacks. This service is included free of charge.
Brute-force Detection
Our web application firewall protects your websites from common vulnerabilities like SQL injection attacks or cross-site scripting.
Malware Scanning
Industry-leading security technology that ensure your websites are free from malware and of known vulnerabilities to prevent loss of data.
Free SSL Certificate
Enable your free Let's Encrypt SSL certificate to any website hosted on your cloud hosting instance and improve SEO.
What is web hosting?
Web hosting is a service that provides space on the internet for website content. When you create a website and want others to see it, you need to publish it through a web hosting service.
What is a domain?
A domain is simply, an Internet address, that is, the unique address of certain websites. In order to see content that is uploaded to a web hosting service (space), we need a so called domain that directs to the content set.
Do I need experience or technical knowledge?
No! In addition to a simple dashboard, our competent customer support is always available. No matter how easy or difficult the question is, don't hesitate to contact us.
Do all shared hosting packages include cPanel?
Yes! All of our shared hosting packages are provided via cPanel© or Directadmin (if ordered), which allows you to easily manage all websites.
How long does it take to activate a package?
All web hosting packages are activated within minutes. Only in exceptional cases where we have to check the order manually, the activation can take a little longer.
Do you offer free migration?
Of course! After activating the web hosting package, you can contact our technical support to arrange the migration. Free. Fast. Easy.
Do I have to pay for the domain renewal?
If you purchased a hosting package with a free domain, the renewal is free. With each renewal of the hosting package, we renew the domain at no additional cost.
Can I change my current package?
Yes! In case you need more disk space or other resources you can easily upgrade your package through the client area or by contacting our customer support. There is no downtime of your website during the upgrade.
What is the difference between shared, cloud and dedicated hosting?
We offer three different types of hosting: shared, cloud and dedicated hosting. All of them are designed for high speed website hosting, but have different use cases. Our shared hosting offer is the basic variant and offers the ideal basis for beginners, but also for users and companies who rely on cPanel and have no complex requirements, and all at a reasonable price.The cloud hosting offer is based on virtual cloud servers (VPS). With each package you get your own virtual cloud server that offers more power, dedicated resources and your own IP address. Ideal if you expect a lot of traffic. You can easily manage your websites using the cloud panel developed by us (cPanel or Directadmin can be purchased for a monthly fee). If you need more power, our dedicated hosting packages are the ideal choice. Powerful servers that are managed and monitored by us, and easy to use via the cloud panel developed by us.
I want to know more about your hosting plans!
All of our hosting packages are designed for speed and stability. We only use modern and proven quality hardware for our servers. In combination with a modern computing center, spread over several locations in Europe and the USA, we can ensure uninterrupted and ultra-fast operation of your websites - not for nothing we have had an availability of more than 99.99% in the last 12 months. To ensure that you receive the right help around the clock, we offer our 24/7 customer support for all of our hosting packages.
What do our customers say?
Learn why our customers love our hosting services.
Excellent service and extremely friendly customer support with maximum value for money. A heartfelt recommendation to anyone who needs the foregoing. My news website on the cloud S1 package has never dropped, even in the moments when 250 users are on the page.
Mario D.
Website owner, Croatia
I have been using a web hosting Cloud M2 at Dihost since 2018 and I am really incredibly satisfied. The support helped me at all times, extremely quickly, I currently run 4 projects on this cloud and setting them up was incredibly easy.
Mario M.
Website owner, Austria
A big thank you to the team which, in addition to having the strongest and cheapest hosting, also has the most patient and friendly customer support I have encountered. Very professional. Good luck.
Adis H.
Website owner, Bosnia
The offer is very extensive. Have now successfully hosted 3 pages on managed cloud hosting with high performance. I deducted a star from the implementation, because it is a little difficult to find the right package from so many. The team helped me very satisfactorily!
Paul S.
Web Designer, Germany
Have questions?
Start Live Chat
We're more than happy to help with questions at any time. Chat with a live human about our hosting packages.
Go to our contact center